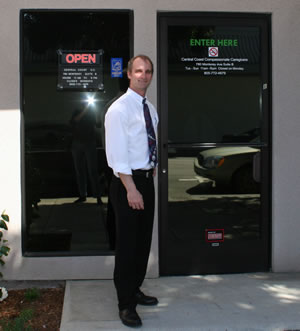 Welcome to Friends of CCL
Charles C. Lynch is the former owner of Central Coast Compassionate Caregivers, a medical marijuana dispensary, in Morro Bay, California.
The dispensary opened on April 1, 2006 with the blessing of the city and was welcomed by the Morro Bay Chamber of Commerce. In July 2006 the dispensary was granted a Conditional Use Permit from the City of Morro Bay to include a Medical Marijuana Nursery at the dispensary.
The Dispensary operated for almost one year without any major problems or complaints to the owner. On March 29, 2007 the Local Sheriff and DEA agents raided the Dispensary and Home of Charles Lynch. Lynch was not arrested at the time and reopened the dispensary on April 7 2007 with the blessing of the City of Morro Bay. A week after reopening the dispensary the DEA called the Landlord and threatened him with Forfeiture of his property unless he evicted the Dispensary from the building. On May 16, 2007 the Dispensary closed permanently.
On July 17, 2007 Lynch was arrested at his home and charged with Federal Marijuana Distribution. Lynch pleaded not guilty and went on trial July 22, 2008 in Los Angeles. Lynch was not allowed to discuss state law or mention 'medical marijuana' during the trial. Also large amounts of evidence including Lynch's compliance with State and Local laws could not be considered as factual by the jury. Before opening the dispensary Lynch called the DEA and asked about thier policy regarding medical marijuana dispensaries. The DEA told Lynch it was up to the Cities and Counties to decide how to handle the matter. This was Lynch's only defense in Federal Court and is called entrapment by estopell when a government agent says something is ok when in fact it might not be. Click here for more information.
On August 5, 2008 Lynch was convicted in Federal Court for operating the Central Coast Compassionate Caregivers. On January 6, 2009 Lynch appeared before Judge Wu to request a new trial on the grounds that he was not allowed to get his defense before the jury and other new evidence. The request was denied. Charles has been out on a $400,000 bail posted by his loving and trusting family and was under house arrest for over nine months.
During March 2009 United States Policy regarding Medical Marijuana changed in favor of states as long as the dispensary complied with state law. Lynch's dispensary complied with all state and local laws during the time it was open. Click here to read the San Francisco Chronicles report of the new policy. On Friday March 13, 2009 John Stossel and ABC News 2020 aired the story of Lynch on National Television. On Sunday March 15 Al Roker did a documentary entitled Marijuana Inc. Al Roker reporting and focused in on the case of Charles C. Lynch. On Friday March 27, 2009 Lynch appeared on Larry King Live with his Federal Public Defenders.
Sentencing which was scheduled for March 23, 2009 was postponed because the judge requested information from the Government regarding the New Policy regarding medical marijuana dispensaries. Despite the recent policy changes Charles C. Lynch was to be sentenced on April 23, 2009 at the Federal Court House in Los Angeles, but Judge Wu continued the sentencing until June 11, 2009 to give defense lawyers more time to provide legal briefings to get around the Mandatory Minimums. Judge Wu indicated that if he could get around the mandatory minimums he would but still cannot find legal standing. He also indicated early after the conviction that the mandatory minimums in this case don't seem fair. He also indicated that if he does not find legal grounds for bypassing the mandatory minimums 'his hands are tied'.
Judge Wu has indicated that he has enough letters of support in the Lynch case. Lynch is now asking supporters to contact the White House and Deparment of Justice to intervene in the case. Click here for info on how to contact these agencies.
On June 11, 2009 Charles C. Lynch was sentenced to one year and one day in Federal Prison. Judge Wu applied the 'safety valve' rule and also gave Lynch bail pending appeal. Lynch is currently at his home in California. Lynch's attorneys filed a notice of appeal on June 15, 2009. The case now moves to the ninth district court of appeals.
USA vs Charles Lynch drags on as Lynch's November 19, 2015 deadline for Final Brief to 9th Circuit looms. Lynch's Section 538 Spending Appropriations Argument was left unanswered in an Emergency Appeal to the 9th Circuit. In October 2015 Lynch was assigned a new Public Defender. Feds continue to demand a five year sentence on the bogus conspiracy charge of Lynch sending his employee to sell on the streets. Abe Baxter, Lynch's so called co conspirator and former employee died of cancer in September 2015. Etrade is closing Lynch's IRA because of this marijuana case. Lynch now wages his War against The War on Drugs from a cold trailer at an undisclosed location somewhere in New Mexico.